Bachelor & Bachelorette Party
Let Limo Express make your Bachelor or Bachelorette party a memorable one. The world's most famous city is the host to many attractions, restaurants and shopping. Let us transport you worry free for a day or night of excitement and fun. Thinking of staying local? We're located in Bergen County, the heart of Northern New Jersey with loads of day or night activities to offer, including bar hopping, clubbing or dinner at an exclusive restaurant. Not sure where to go? No worries! Check out the list of the hottest places on earth to visit for your bachelor or bachelorette party, check out: World's Best Bars.com for a detailed description and recommendations of each place.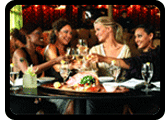 For your convenience we have compiled a list of useful places, addresses and phone numbers. If you need additional assistance please do not hesitate to give one of our knowledgeable customer service representatives a call.
Boys Night Out
  Best man resources:

Penthouse Executive Club
603 W 45th St
(212) 245-0002
Larry Flynt's Hustler Club
641 W 51st St
(212) 247-2460
Hot Lap Dance Club NYC
West 38th St
(212) 875-7115
Scores
333 E 60th St
(212) 421-3763
Scores West Side
536 W 28th St
(212) 868-4900
HeadQuarters
552 W 38th St
(212) 967-4646
Ten's Cabaret
35 E 21st St
(212) 254-2444
Girls Night Out
  Bride's maid resources:

Coyote Ugly Saloon
153 First Ave. NYC
(212) 477-4431
Wicked Pub Crawl
300 E 76 Street, NYC
(212) 585-2371
Sushi Samba
87 7 Ave. South at Barrow St.
(212) 691-7885
SOB's
204 Varick St. at Hudson
(212) 243-4940
TIMES SQUARE HUNKS
1604 Broadway
(212) 278-0631
Hank-O-Mania
NYC AVALON
V.I.P call (917) 921-8476
866-USA-HUNK
Planet Lucky Chengs
24 FIRST Avenue 1/2 Street
(212) 995-5500